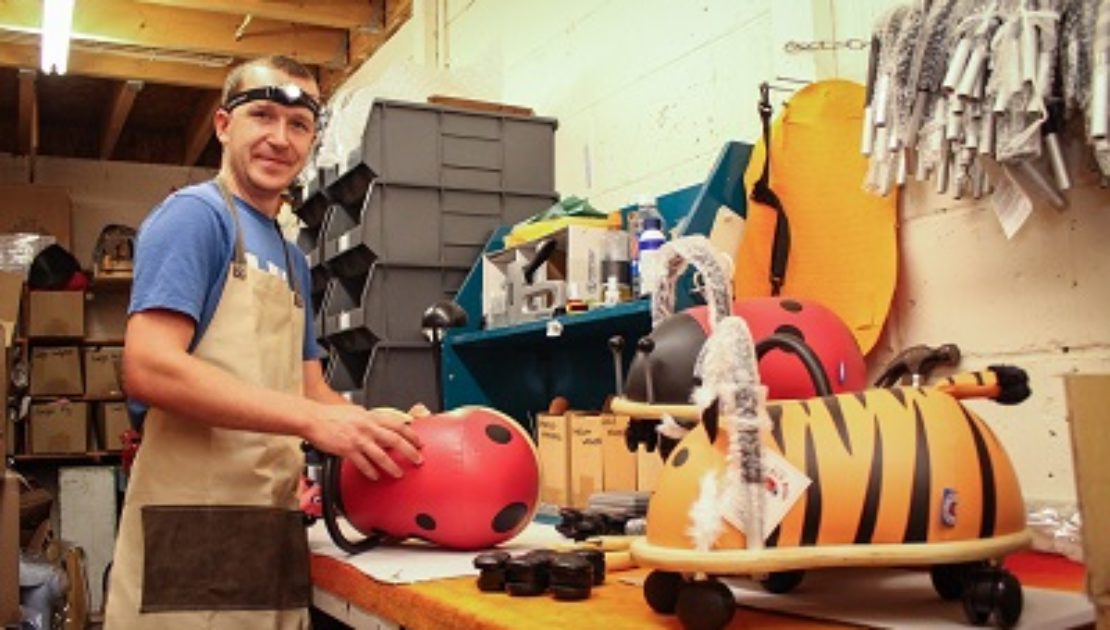 Wheelybug Clinic recycling scheme
Somerset based toy company, Hippychick is launching the first ever Wheelybug Clinic, a facility that will encourage its customers to recycle a toy, instead of assigning it to the rubbish heap.
The service will be provided by Scott Bateman aged 27, an employee of Hippychick Ltd, a company committed to traditional toys that encourage imaginative play for the under 5s. One of their best-sellers is the ride-on Wheelybug that comes in a variety of animal designs.
Scott has been providing a repair service of used Wheelybugs behind the scenes since Hippychick first took them on 11 years ago.
'Only a handful of people take advantage of this unique facility at the moment' says Julia Minchin Hippychick's Founder and Managing Director. 'But Scott, who we believe to be the modern day Geppetto, father to the fictional character Pinocchio, has shown such incredible aptitude and dedication in Wheelybug operations, that we have decided to officially launch 'The Wheelybug Clinic' this summer, as part of Hippychick's commitment to after sales service.
From our point of view, it's a positive environmental step. Instead of throwing away a toy that is fundamentally sound but might have lost one of its wheels or has a rip in its skin, customers can now take advantage of a professional repair service that has it looking as good as new.'
Families will appreciate the Wheelybug Clinic, too. Children are known to form attachments to familiar toys. In the same way that they won't be fooled by a duplicate security blanket replacing their old favourite, parents know that a new Wheelybug simply won't do'.
Dr Scott, as he is affectionately known at Hippychick, whose love of mending cars has been instrumental in helping to fine-tune his Wheelybug repair skills, describes the common ailments of a typical Wheelybug which he will be treating regularly at the Clinic.'
'Normally it's just a surface a cut to the skin. What we can do in this instance is re-skin the Bugs. We have all the different designs in the workshop. It's quite tricky to get the surface absolutely flush with the body but I've perfected the art and get it done in under an hour.'
We can also supply new wheels, base boards which can get scuffed or chipped over time, apply new handles and even add new horns to Wheelybug cows and antennae to the Ladybirds and Bees.
Commenting on his job, Scott said: 'It's a really rewarding job to return a much-loved Wheelybug back to a child who has formed a genuine attachment to it. It's how I imagine a vet would feel to nurse a sick dog back to health and give it back to its family. It gives you a lovely warm feeling inside.'
Wheelybugs are available from www.hippychick.com/wheelybugs and prices start at £64.95.
The repair service starts at £15 for a new skin.
Drop by stand E32 at Sandown Park to view the collection.
Back to Baby & Toddler Blog