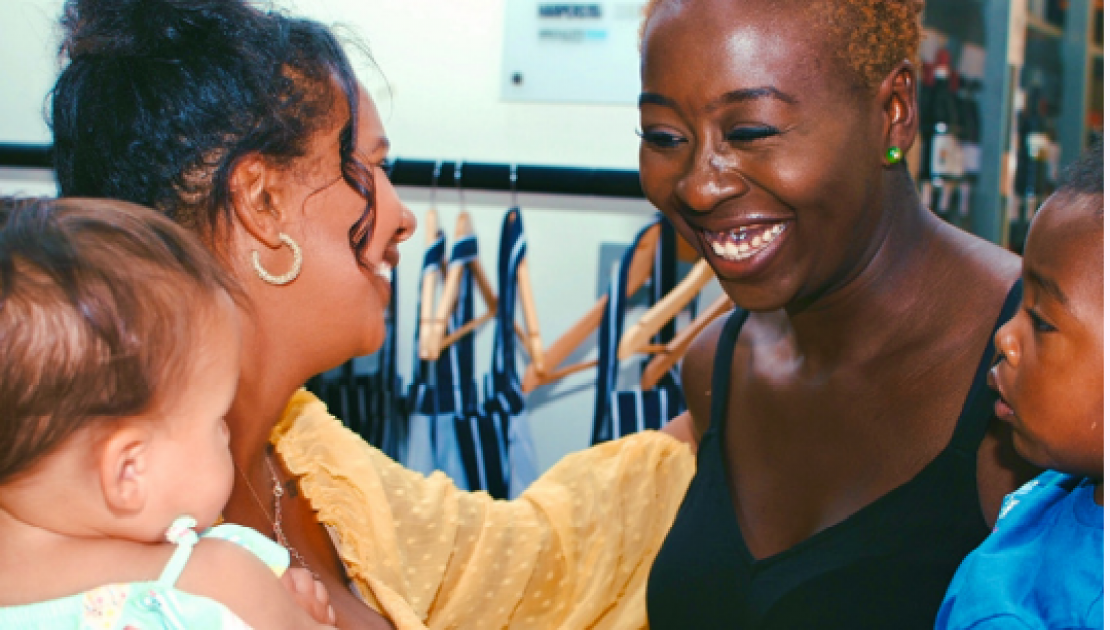 Black Maternal Mental Health Week
Black Maternal Mental Health Week is a focus period for ensuring the equity and inequalities Black mothers face are recognised and addressed. This year's theme is Equity and each day we will be exploring the following areas: Equity and Inequality, Stigma, Trauma and Loss, Feeding and Wellbeing and Community and Culture.
At the beginning of my maternal journey, I realised it wasn't going to be a walk in the park. I felt the burden of unrealistic expectations from my community, from society, and from myself. Before long, my mental health was impacted. The Sandra Igwe I once knew started to fade away.
At the time, I hadn't heard anyone speak about Black maternal mental health. But according to Postpartum Support International (PSI), approximately 15% of all women will experience postpartum depression and up to 10% will experience depression or anxiety during pregnancy. It was then later acknowledged that as a Black mother there was a 13% increase in likelihood.
What are the warning signs of postpartum depression?
Here are some of the signs I was dealing with postpartum depression and postpartum anxiety:
Feeling overwhelmed by sadness and tears
Feeling anxious to be on your own with the baby
Feeling low self-worth
Other common symptoms are:
Difficulty bonding with your baby
Feeling stressed, fatigued, and unmotivated
Replaying your birth experience over and over again in your mind
You are not alone
It often feels overwhelming to see a list of everything you might be experiencing – but if you relate to these symptoms, you don't have to feel isolated or ashamed. Express your concerns to a friend, family member, or healthcare professional. Being a new mum, I wanted to get as much support as I possibly could, so I set up The Motherhood Group – a network of Black mothers and pregnant women to confide in. I finally had my own 'safe space' to talk about postpartum blues. I also started the campaign Black Maternal Mental Health Week UK. I wanted to break the stigma of mental health and open up dialogue around the importance of maternal mental health as part of maternal health in general during pregnancy, and postnatally.
Remember, you are not alone – that's what I reminded myself daily. I had to develop the confidence to speak out. Seeing and hearing terms like "my bundle of joy" or "motherhood is the best thing to happen to me" all over social media left me feeling even more pressure to appear as though I was seamlessly relishing every moment of motherhood.
For me, motherhood was a beautiful life event – but I wanted to normalise feeling a variety of emotional states, which is why my community of Black mother meant everything to me.
Finding the support you need
Talking to someone about your emotional wellbeing can help make sure you get the help and support you need. With the right support, many maternal mental health challenges are very treatable.
Find the courage to seek professional help and support for your postnatal mental health treatment if:
Feel like you cannot cope with the magnitude of your feelings or the physical manifestations
Are overwhelmed by fatigue yet struggle to sleep
Are isolated and cannot speak to anyone about how you are feeling
Are not eating properly or have a loss of appetite
Postpartum depression help is available.
If you're experiencing any of the above symptoms, you may now be thinking – how do I get help? One of the most important factors in being able to cope with maternal mental illness is a good support network – whether that be family, friends, or healthcare providers. There should never be any guilt or shame around asking for extra support, especially when you need it.
The most important thing to remember when it comes to your maternal mental health. You are not alone! You deserve to be seen, heard and supported.
The last few years have amplified mental health struggles for all of us and heightened the disparities Black mums face. This year's Black Maternal Mental Health Week #BMMHW2022, (Monday 26th September to Sunday 2nd October) coordinated and facilitated by The Motherhood Group, is dedicated to promoting health equity for more Black mothers and birthing individuals across their birth experience so they can reclaim their joy and reinstate their peace of mind.
Subscribe to our newsletter as we share further details of the focus points for each day and email projectmanager@themotherhood.com to get involved.
You can find out more about Sandra's journey in her new book "My Black Motherhood" and on her Instagram @sandeeigwe.
Back to Baby & Toddler Blog