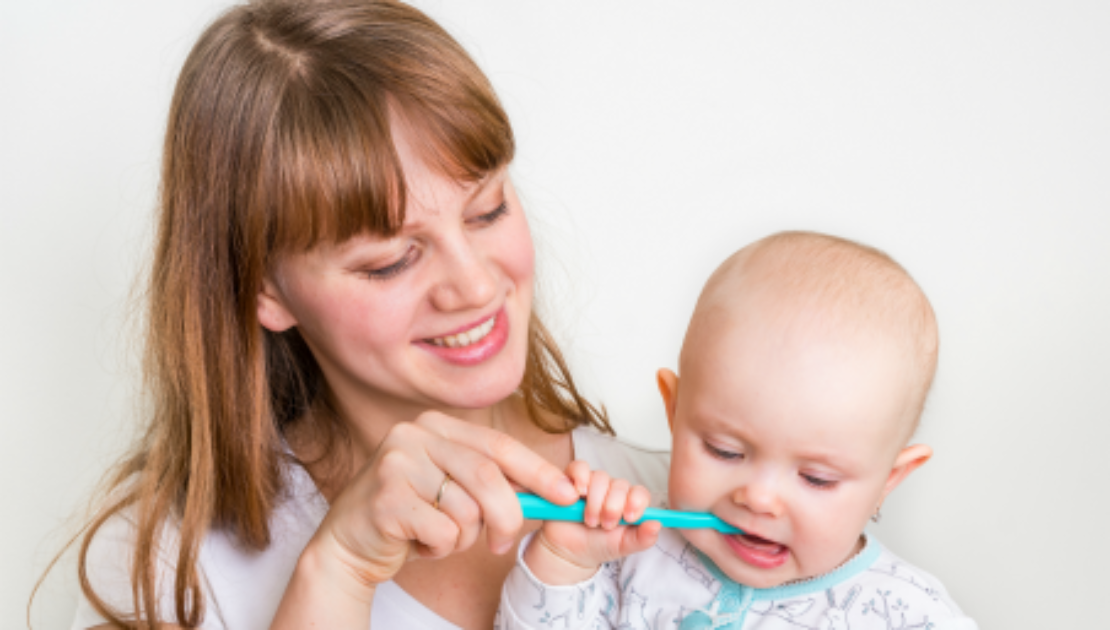 10 things to know about your baby's teeth
It is a national ambition that every child grows up free of tooth decay, a largely preventable problem in 90% of cases. Helen Clint, an NHS dentist and Educational Supervisor, has put together her Top 10 Tips to help you look after your children's teeth and help form healthy habits for life, giving them and their teeth the best start.
1. Your baby's first teeth will come through at around 6 months old, they are usually the lower central incisor teeth. As with any developmental milestone, there can be some variation, but if you are concerned, consult your dentist.
2. Start brushing when your baby's teeth first come through with an appropriate fluoride toothpaste containing at least 1000ppm of fluoride (or an appropriate family toothpaste), using a flat smear of toothpaste. Brush teeth twice daily, night-time is the most important time for brushing.
3. Baby teeth DO matter, they help your child speak, function and maintain space in the jaws for permanent teeth to come through. Your child will have some of their baby teeth until they are at least 11-12 years old.
4. Enamel on baby teeth is thinner than on adult teeth, making the teeth more susceptible to tooth decay, a largely preventable problem, yet around 1 in 4 children will start school with tooth decay.
5. Only ever put your baby's milk or water in a baby bottle. Breast milk, infant formula and water should be the only drinks offered to babies. Start using free flow cups from 6 months, from 12 months drinking from a bottle should be discouraged.
6. Natural or artificial sweeteners (including sugar, honey and fruit juices) should not be added to weaning foods or drinks. Check labels on shop bought products for sugar content – foods marketed to parents as 'healthy' and full of natural ingredients can be high in sugar.
7. Keep to a maximum of two low sugar snacks per day between meals. Dried fruits should only be consumed as part of a meal and not given as a snack. Be wary of 'healthy' snacks, these products often do not live up to claims on their packaging. 'Contains 1 of your 5 per day' can be high in sugar in the form of fruit juices, purées and concentrates.
8. Offer vegetables as your baby's first foods, babies will likely prefer fruit to veg as they have a natural preference for sweet things. Food preferences can be taught through experience and familiarisation, therefore with perseverance, you can teach your child to like veg and avoid giving them a 'sweet tooth'. Vegetable based baby foods should be selected over fruit-based products and should be given on a spoon, not via nozzles on pouches.
9. Start thinking about taking away your child's dummy as they approach their first birthday. Gently withdrawing and reducing use will prevent long term problems including misalignment of teeth.
10. Book their first Dental Check Up by your child's 1st Birthday – The British Society of Paediatric Dentistry have a UK wide campaign that encourages all parents and guardians to ensure that young children see a dentist as soon as their first teeth come through, and before their first birthday. NHS dental treatment is free for mothers with children under 1 too!
If you live in England, you can find details of how to find an NHS dentist at www.nhs.uk in the NHS Services section, click on 'find a dentist'. If you can't find a dentist accepting NHS patients, you should call NHS England's Customer Contract Centre on 0300 311 2233. For other regions, please contact your local health board who will be able to direct you to the appropriate department.
Back to Baby & Toddler Blog