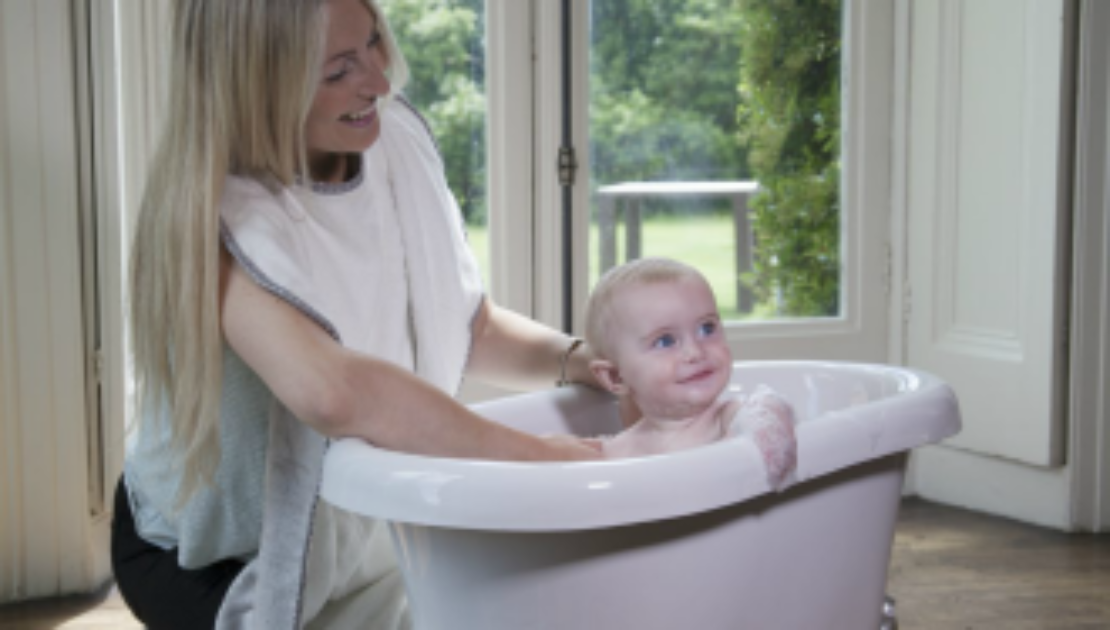 Baby's First Bath
There's nothing quite like the excitement you feel as a new parent, ticking off the memorable milestones as your baby grows and develops. So many of these all important firsts happen in the very early days, as you bring your baby home and you eagerly await that first smile, first finger squeeze and first chuckle. But what about baby's first bath? It's just as important a first as any other, but one that too many parents face with a sense of fear rather than joy. It doesn't have to be this way! There are so many ways that baby's first bath can be memorable for all the right reasons, so we're sharing our tips for new parents in the hope that we can transform that first dip into a happy, relaxed and calm experience for all.
Be prepared
First and foremost, make sure you're prepared- emotionally and practically! Yes, it can be a daunting prospect when you're faced with a tub full of water and a wriggling baby- but this is going to be a positive experience, so take a deep breath and smile!
Being prepared is key, and remember you can't leave the room once baby is in the water. Have all the items that you need for baby's bath to hand so that you're ready and equipped with all the essentials. Tick items off the checklist:
• A warm towel to wrap baby in after the bath (we of course recommend the Cuddledry handsfree towel!)
• A folded towel or cushion to kneel on
• Everything you need to dress baby in afterwards
• Everything you need for baby's post-bath feed
• A small bowl of warm water
• Bamboo washcloths
• A bath thermometer
Safety first
Never leave your baby unattended in the bath, and always ensure a responsible adult is in charge. Your newborn baby only needs a very small amount of water in the tub (around 6-8 cm) so don't over fill, and stay away from slippery bath foams and soaps. Make sure the water is not too hot (ideal temperature is around 37 degrees) and swish it around to disperse any hot spots that could be lingering.
Tips to make the first bath easier
When you're ready and you have all the necessary equipment within reach, plus you've carried out all the safety checks, then it's time for the first bath! Here are our top tips for making it easier and way less stressful.
• Attach your Cuddledry handsfree towel. This is worn around the neck like an apron so that it keeps your clothes dry during bathtime, and so that you can have two hands free throughout the whole experience.
• Start with a top & tail wash. Use the bowl of warm water and bamboo washcloths to gently clean your baby from top to tail. There's no need to remove baby's nappy at this point, as you gently clean the face and the folds of skin under the chin. Leave your baby's nappy on as you focus on the top half, then quickly remove it to clean the bottom. Work at a steady pace so that baby doesn't get too cold.
• When you're ready, remove baby's vest and lower them gently into the water. Place one arm on your baby's shoulders and neck, holding baby's outside arm with your hand. Place your other hand under baby's bottom and in this position, lower them gently into the water. Now you can remove your other hand and use this to gently swish water onto baby's body.
When you're ready to lift baby out of the water, use both hands to do so and bring baby up to your chest, against the handsfree towel. Bring the bottom corner of the towel up and hook the hood over baby's head, wrapping the rest of the towel around their body so that you can cuddle them dry.
Remember that practise makes perfect, and as you get to know your baby and gain in confidence, bathtime will quickly become one of the best parts of your day. It really is the ideal opportunity for you to bond and spend quality, screen-free, time together. Enjoy!
Visit Cuddledry at Sandown Park on stand E11 and at Glasgow on stand E10.
Back to Baby & Toddler Blog